Ron Wheeler: Guitar/Vocals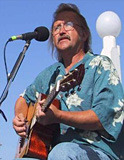 I was born in Kansas City, Missouri. Was involved in choir at school from first grade. Graduated from Raytown South High in 1970. I attended the University of Missouri Music Conservatory, studying vocal music. Inducted into the Navy in 1971 and moved to Lemoore, Ca. In 1975 I moved to San Diego (still with the Navy) and spent my career at North Island Naval Air Station, Coronado, Ca.I spent 23 years with the service, during which time I had many various bands on board ships and stations. Played in some exotic places such as Barcelona, Spain; Tokyo, Japan; Subic Bay, Philippines; Alexandria, Egypt; and Nice, France. I worked with a good friend, Ken Costa from 1984 to 1985 at a place called OHungry's, in Old Town doing the college circuit crowd (LOTS OF FUN!). I met Gonzo and Claudio at the Hotel del Coronado in 1991, when I returned from a three-year tour in Japan. They were playing with their group InVoices. I sat in occasionally and really felt comfortable with their musical style. In 1994 I was in a duo, "Hard Times" with a good friend, Paul Babiak. Gonzo asked us to sub a couple of times in his group and we started practicing in my garage. The vibe was good, the voices well suited for each other and Ron's Garage was born...I have to admit though; I didn't name the band... that was the other guys doing. Paul left us in 1997 and Claudio joined our group. We have been the three amigos since then, with Gary Taylor coming in later as our drummer. It has certainly been my pleasure and delight to work with, whom I believe, are the upper crust of musicians in this town. Our thrust is classic rock, with a great blend of other musical styles thrown into the mix. Rock On!
Claudio Martin: Electric Guitar/Color/Vocals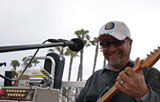 I was born in Boston and after moving around a bit, my family moved to San Diego in 1970. My parents, both from Argentina, played a lot of guitar records while I was growing up. I began playing guitar when I was 16. I graduated from Saint Augustine High School in 1977. After high school, I attended Musician's Institute in Hollywood, CA and upon graduation from M.I., I moved back to San Diego and played in various local bands. After a few years, I enrolled at Grossmont College to pursue a degree in music with an emphasis in classical guitar. I continued playing in local bands while I took a full load of classes at Grossmont, where I studied with Fred Benedetti, who had studied with on of my primary musical influences, Andres Segovia. In 1987, I won the Classical Guitar Competition at Grossmont College and received a scholarship to attend San Diego State University where I had an opportunity to study with Celin Romero. After graduating from SDSU, I continued to play local bands and I've been with Ron's Garage since 1997,although, Gonzo and I go way back to our college days in the mid-80's at Grossmont College and SDSU and as members of the band InVoices. I was also a member of Dr. Feelgood and the Interns of Love and currently perform with GONZOLOGY.
Gary Taylor: Drums/Cajon/Percussion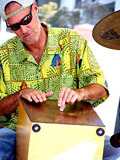 Someday, Gary will submit a bio for this page. Until then, know this: Gary Taylor is the best drummer we have ever had the pleasure of sharing a stage with. Without a doubt, he's our personal favorite. He's one of the most in demand musicians in San Diego. He can be seen playing drums or cajon with Ron's Garage Band, The Steely Damned and Gonzology.
Phil Lean: Bass Guitar/Vocals
I was born in Baltimore, Maryland on the same day that the Beatles' seminal album, "Sergeant Pepper's Lonely Hearts Club Band" was released in the United States.  Loving to sing since childhood, I quickly became a Beatles fanatic.  By age 13, the Beatles had inspired me to begin learning to play the guitar.  At the age of 14, I began playing bass guitar and performed professionally in a local band which my older brother Scott later joined as lead singer.  The band became known in the Baltimore area as "Prophecy" and we were quite successful locally, even singing the National Anthem three times at Orioles baseball games in 1987. 
    After graduating high school, I began studying music at the University of Maryland, Baltimore County where I earned a B. A. in Music Composition in 1989.  After graduating Magna Cum Laude from UMBC, I moved to San Diego at the urging of my professor, in order to pursue a graduate degree at the renowned music department of the University of California, San Diego.  I earned an M. A. in Music Composition from the UCSD in 1992, then I continued on to complete all of the course work for a doctorate degree in Theoretical Studies In Voice by 1995. Upon the completion of my doctorate course work but prior to obtaining my PhD, my former Prophecy band-mate, Steven Stern, offered me a job working part-time in Los Angeles as a TV/film composer.  I gladly accepted, greatly needing break from school for 24 years straight.  I helped with developing musical themes; composing; co-producing; editing; orchestrating; and arranging the music in three feature films:  Bloody Murder, Indiscreet, and The Beneficiary, and on two Showtime television series': The Outer Limits and Poltergeist : The Legacy.
   Throughout my years in graduate school and Los Angeles, I always continued to perform live music professionally in the San Diego area.  In 1990, I joined an acoustic trio called the Self-Righteous Bros. In 1992, I cofounded another group called "Four Way St." with a member of "The Self-Righteous Bros", James Gossett. Both bands specialized in vocal harmonies. I also started to perform solo playing keyboards and acoustic/electric guitar in 1998-9. I met the members of Ron's Garage in 1999, and started subbing on bass/vocals with the band. 
    In 2000, Michael Gonzales of Ron's Garage informed me of an opening in the music department of Francis Parker School where he teaches guitar. I got a full-time teaching position there directing both the Middle School Chorus, and Upper School Vocal Ensemble, and later, the Contemporary Guitar Ensemble (which Claudio has co-taught with me a couple of years), and the Parker Glee Ensemble. 
     In 2009-10, I cofounded another group as a side project with some of the members of Ron's Garage called "Gonzology". We play more esoteric, progressive rock with some other genres of classic rock thrown in. In 2011, I happily became a permanent member of Ron's Garage, still continuing work with Four Way St. and solos/duos etc.